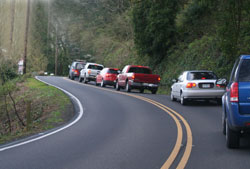 Traffic issues are an ever constant concern in our neighborhood. With the growing population, our roads are seeing increasing amounts of traffic on the roadways, especially during peak commute hours. Our curvy roads and susceptibility to ice are cause for the inevitable accidents. Additionally, Skyline Blvd. provides a scenic roadway that must be shared with bicyclists, pedestrians, motorcyclists and the normal flow of cars.
Join the West Hills Transportation Partners on Facebook to get involved transportation issues.
If you would like to get involved in working through some of these issues please contact us.